I've been so busy with going back to work and starting new tasks last week that I just ran out of energy to blog and blog-hop. I'm always a bit worried about going back to work after my holiday because of several reasons.
Anyway, last week I had my second pap smear invitation from the government. It's offered for free every 5 years, so yes, of course I'd gladly go and have myself checked up. I had never had any pap smear back in Indo and my first experience was so gentle. The gyno talked in Finnish very very slowly so that I would understand everything and I'm really glad she was that thoughtful.
Today I was checked up by a different woman, but at least I know already what was going to happen, so it was all good. She asked me some stuff, including whether or not we used birth control. I said, "No, because making babies isn't happening for us." Then she asked if we still had baby fever. I said no. Thankfully she didn't say anything else about that and she continued with the next questions. Bless her! :-) She said that from what she could see, everything looked good, but I'm gonna get the result in 1-4 months anyway via snail mail.

After the baby boom last month (a cousin's son, my bro's second son, a friend's grandson plus I found out another friend is preggy), one thing popped out. I was totally fine with the births of the sons and seeing the preggy friend's pics and seeing little children and pregnant ladies during our holiday. What was tough to witness (surprise, surprise!) was my friend's joy and exhilaration on becoming a grandma (it wasn't making me bleed inside, but I felt a little thump after several postings). I think the reason is that I haven't really grieved fully this kind of

loss

- that I'll never be able to witness a son's wife's or daughter's pregnancy and I'll never become a grandma.
At one point I almost wanted to hide some of the things she shared, but I didn't. I did, though, take time to acknowledge and grieve the loss and I took some time away from Facebook before I commented on her posts and photos about becoming a grandma. I think being busy at work has also helped me in that area. :-) At work I don't have time to use my mobile phone, so I can focus on other things instead. And here's to hugging myself mentally whenever I'm in pain!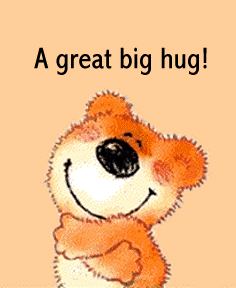 glitter-graphics.com